What is cyclophosphamide?
Cyclophosphamide (CP) or cytophosphane is one of the most useful antineoplastic agents used in medicinal chemistry for the treatment of cancer and suppressing the immune system. The most commonly used analogous of cyclophosphamide are ifosfamide (IFO) and trofosfamide (TFF). In chemotherapy, cyclophosphamide is used to treat lymphoma, multiple myeloma, leukemia, ovarian or breast cancer, small cell lung cancer, neuroblastoma, and sarcoma.
A small dose of Cyclophosphamide created long-term side effects like lowing white blood cell counts, appetite, vomiting, hair loss, and bleeding from the bladder.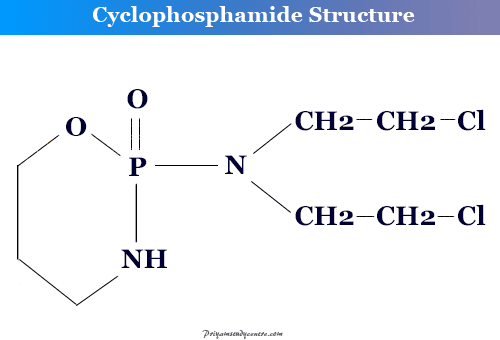 The molecular formula of Cyclophosphamide is C7H15Cl2N2O2P and the molecular structure is given above the picture. It was adopted in 1959 for use in medicine in the United States. According to World Health Organization, it is an essential medicine for life.
It is prepared by the interaction of bis (2-chloroethyl) phosphamide dichloride with propanolamine. Like other alkylating agents, it is a nitrogen mustard family of medications and works with the duplication of DNA and the creation of RNA.
Uses in Medicine
Cyclophosphamide is effective against acute leukemia, chronic lymphocytic leukemia, and multiple myeloma. In combination with other chemotherapy agents, it is found to cause a radial cure in acute lymphoblastic leukemia in children.
It has a positive advantage over other alkylating agents because of its activity (parenterally and orally). It is tolerant over a prolonged period in divided doses.
Like other alkylating agents and mechanisms of action, cyclophosphamide harms the fetal malformations of the pregnant woman. Therefore, intake of the medicine causes miscarriage, fetal development retardation, and toxic effects on the newborn baby for pregnant women.
Cyclophosphamide dose
It is used by different types of trade names like Lyophilized Cytoxan, Endoxan, Cytoxan, Neosar, Procytox, Revimmune, and Cycloblastin. Different types of the dose of cyclophosphamide we used to treat different types of diseases.
Malignant Diseases
Therapy
Amount of dose
Period of dose
IV (intermittent therapy)
40-50 mg/kg or 400-1800 mg/m2
divided over 2-5 days
IV (continuous daily therapy)
60-120 mg/m2
per day
PO (intermittent therapy)
400-1000 mg/m2
divided over 4-5 days
PO (continuous daily therapy)
50-100 mg/m2 or 1-5 mg/kg
per day
For Nephrotic Syndrome, the doctor used 2-3 mg/kg/day for up to 12 weeks when corticosteroids were unsuccessful.
For Non-Hodgkin Lymphoma, the doctor used 600-1500 mg/m2 IV with other antineoplastics.
For Breast Cancer, the doctor used 600 mg/m² IV with other antineoplastics.
For Juvenile Idiopathic Arthritis/Vasculitis, the doctor used 10 mg/kg for a period of 2 weeks.
Cyclophosphamide side effects
It is an essential medicine for life, but it has different types of side effects. The most common adverse effects of cyclophosphamide may include,
Nausea
Vomiting
Loss of appetite or weight
Loss of red blood cells
Abdominal pain
Diarrhea
Hair loss, and changes in skin color
Cyclophosphamide dose also increased future risk of cancer, infertility, and allergies are the part less common side effects of the drug.