What is organic compound?
Organic compound in chemistry is the class of chemical compounds that contain carbon-hydrogen chemical bonding. Carbon has the property to combine with other carbon atoms to form a long chain. Therefore, it forms more than 3 million organic compounds.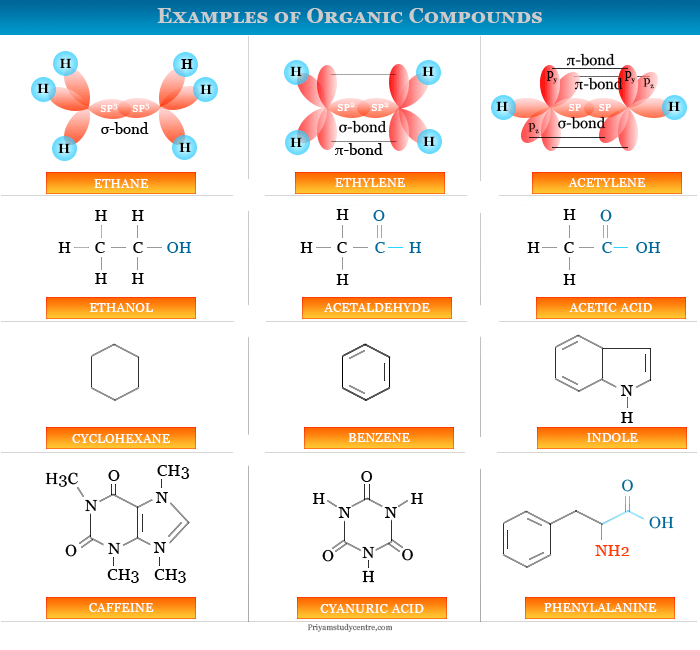 From a common definition, organic chemistry is the chemistry of carbon compounds or molecules. The definition includes compounds like carbon monoxide, carbon dioxide, carbonates, carbon disulfide, etc. These are the kingdom of inorganic series.
In learning chemistry, the definition or classification of chemical compounds such as organic and inorganic compounds is very complicated. Hydrocarbons (alkanes, alkenes, acetylene), aldehyde, ketone, alcohol, ether, carboxylic acid are the most common class of organic compounds.
Organic compounds examples
Types of organic compound
To differentiate different types of organic and inorganic molecules, the substances are classified into two groups.
Substances that are prepared from green plants or animals (living world).
Substances that are not prepared from the living world.
Pure organic compounds like sugar, starch, amino acids, enzymes, alcohol, resins, indigo, and methane are known from the earliest history but the chemical formula or reactions of the said molecules are still unknown.
With the progress in chemistry, about the beginning of the eighteenth century, Lemery (1675) published a famous science journal, Cours de Chemie. It divided the chemical substances from natural sources into three classes,
Substances come from minerals.
Substances come from green plants.
Substances come from animals.
History of organic chemistry
Lavoisier contribution to organic chemistry
Lemery's definition of organic compounds is accepted but very quickly Lavoisier (1784) provides new information for the classification of organic compounds or molecules on the basis of their sources. All compounds obtained from green plants and animal sources always contain carbon and hydrogen atom, and frequently, nitrogen, oxygen, and phosphorus. Lavoisier also shows the close relationship between green plants and animal products.
With the improvement of the analytical chemistry, the organic substances are reclassification into two classes,
Substances come from living organisms. Proteins, amino acids, enzymes, sugar, starch are examples of such types of organic compounds.
Substances are made from non-living worlds.
Friedrich Wöhler contribution to organic chemistry
Chemical science goes step by step by the scope of new information, changing definitions or classifications, and production of the new substance or molecule in chemistry.
In 1828 Friedrich Wöhler converted ammonium cyanate into urea, a substance obtained from animal sources. It changes the definition and classification of organic chemicals.
The previous definition of organic molecule completely ended with the synthesis of acetic acid from its component chemical elements by Kolbe in 1845. Therefore, organic chemistry is the study of structure, properties, synthesis, and reactions of hydrocarbon or derivatives of hydrocarbon.