What is ramipril?
Ramipril is a class of ACE inhibitors used for the treatment of high blood pressure (hypertension), heart failure, and diabetic kidney disease. It is sold under the brand name Altace. Ramipril dose can cause various types of common side effects such as headaches, dizziness, feeling tired, cough, etc.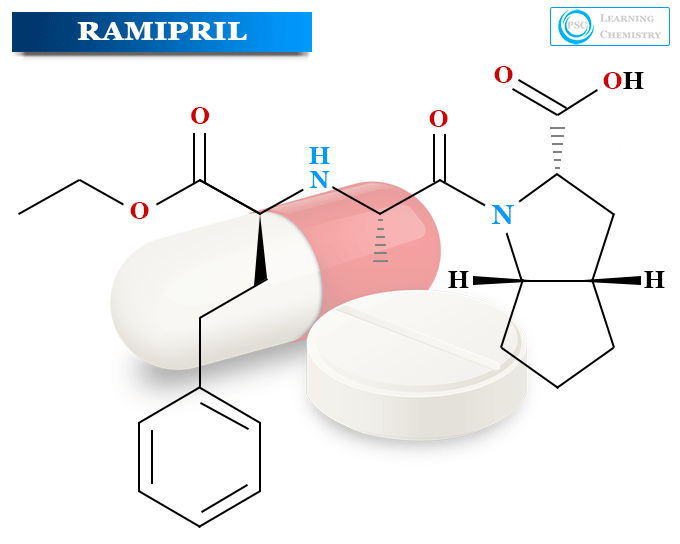 Ramipril is a white or almost white crystalline powder sparingly soluble in water but freely soluble in methanol solution. Do not use ramipril medication during pregnancy because it may harm your developing fetus.
Taking ramipril tablets or capsules may also cause many serious side effects like liver problems, angioedema, kidney problems, and high blood potassium level. In rare cases, it can reduce red blood cell or hemoglobin content in your body.
It was approved for medical use in 1989 and is available for generic medication or treatment of high blood pressure.
What is ramipril used for?
Ramipril is an ACE inhibitor that decreases the activity of the renin-angiotensin-aldosterone system.  It is used alone or together with other medicines for the treatment or prevention of high blood pressure (hypertension).
If high blood pressure does not treat, it may damage your brain, heart, blood vessels, kidneys, and other parts of the body. Therefore, damage to such organs may cause heart disease, heart attack, heart failure, stroke, kidney failure, vision loss, etc
Ramipril is the most commonly prescribed medicine in United State patients. The common medicinal uses of ramipril are,
To decrease high blood pressure.
For treatment or prevention of congestive heart failure.
For treatment of heart attack, stroke, and cardiovascular death.
Kidney damage due to diabetes.
What does ramipril do for your heart?
It is an angiotensin-converting enzyme (ACE) inhibitor. ACE inhibitors can inhibit or lower the production of angiotensin II and decrease the breakdown of bradykinin. It relaxes the blood vessels in your body and increases the supply of blood and oxygen from other organs to your heart. Hence, it uses for reducing heart rate and lower arterial blood pressure.
Ramipril brand names
Ramipril is marketed in various countries with different brand names. The most common brand names by country are given below the table,
| | |
| --- | --- |
| Country | Brand names |
| United States | Altace (King Pharmaceuticals), Triatec (Sanofi-Aventis) |
| Italy | Triatec (Sanofi-Aventis) |
| Canada | Altace (Sonfi) and Ramipril (Pharmascience) |
| Australia | Prilace (Arrow Pharmaceuticals) |
| Philippines | Ramipro (Westfield Pharma) |
| Ghana | Novapril (Pharmanova) |
| Slovenia | Ramitens (PharmaSwiss) and Ampril (Krka) |
| Hungary | Corpril (Cemelog-BRS) |
| India | Cardace, Zigpril, Ramistar, Odipril and Zorem |
Storage
It should be stored in a well-closed airtight container at room temperature and protected from light. Store it away from excess heat and moisture. Always place it in a safe location which out of reach of children.
Ramipril dose
The dose of ramipril capsule or tablet is available in the strength of 1.25 mg, 2.5 mg, 5 mg, and 10 mg. Generally, you can take it once or twice a day.
Your doctor may advise you to take your first dose before bedtime because ramipril medication makes you dizzy. After starting the first dose, you can take it at any regular time in the day.
Dose for hypertension
The usual starting dose for adults is 2.5 mg orally once per day if you do not take a diuretic. If you take a diuretic the dose is 1.25 orally once per day. Your doctor may adjust the dose according to your blood pressure. You can maintain the dose of 2.5 to 20 mg one time or two times per day.
Dose for congestive heart failure
The usual starting dose for adults is 2.5 mg orally twice a day. Your doctor may maintain the dose of 5 mg orally twice a day after one week. If hypotension occurs, your doctor may decrease the dose of the drug.
Dose for cardiovascular risk reduction
Ramipril may reduce the risk of heart attack, and stroke caused by a cardiovascular disorder in patients aged above 55 years. The starting dose is 2.5 mg orally once a day for one week. It may increase to 5 mg orally once a day for the next three weeks.
The dose is also increased by your doctor if improvement in patients is observed by maintaining the dose of 10 mg orally once a day.
Dose for diabetic nephropathy (off-label)
The starting dose is 2.5 mg orally once per day if you do not take any diuretic. It is 1.25 mg orally once per day if you take it with a diuretic. It may maintain 2.5-20 mg orally once a day.
Always consult your doctor before taking the ramipril dose for treatment of diabetic nephropathy.
Ramipril side effects
The prodrug or precursor drug ramipril causes many common and serious side effects on your body after taking it. The common side effects included
Headache, nausea, vomiting
Dizziness on standing
Low blood pressure or hypotension
Feeling tired
Cough
Chest pain
Diarrhea
Skin swelling
Stomach discomfort
It may change renal function due to blockage of the renin-angiotensin-aldosterone system. It is considered to be safe or well-tolerated for most people who suffer from renovascular disease. The serious side effects of ramipril included
Angioedema
Swelling of the face, throat, tongue, lips, eyes, hands, feet, and ankles
High blood potassium level
Hoarseness
Difficulty on breathing
Yellowing of the skin or eyes due to liver problem
Kidney problem
Fever, sore throat, chills
Lightheadedness
Fainting
These are not a complete list of side effects after ramipril medication. Your doctor can guide you about it. People should not take ramipril or any other ACE inhibitors (captopril, enalapril, lisinopril, etc) if they suffer from hyperkalemia.
If you taking any serious side effects or adverse reactions, immediately tells or call your doctor for medical advice. Do not take ramipril dose during pregnancy or breastfeeding because it can harm your developing fetus or child.
What foods should be avoided when taking ramipril?
Ramipril can increase the potassium levels in your blood. Increased potassium level causes irregular heartbeat. Therefore, it is best to avoid potassium-rich foods like bananas, oranges, green leafy vegetables, and potassium-containing salts during ramipril medication.