Irbesartan medication
Irbesartan (brand name Avapro and others) is a medication used for the treatment of high blood pressure or hypertension, heart failure, and kidney damage due to diabetes. Irbesartan or Avapro doses cause various common and long-term side effects in patients. Uses of irbesartan tablets during pregnancy may harm your developing fetus. The dose of irbesartan medicine is not recommended during breastfeeding.
Irbesartan is a white crystalline solid that is soluble in ethanol and methylene chloride. It is an angiotensin II receptor antagonist.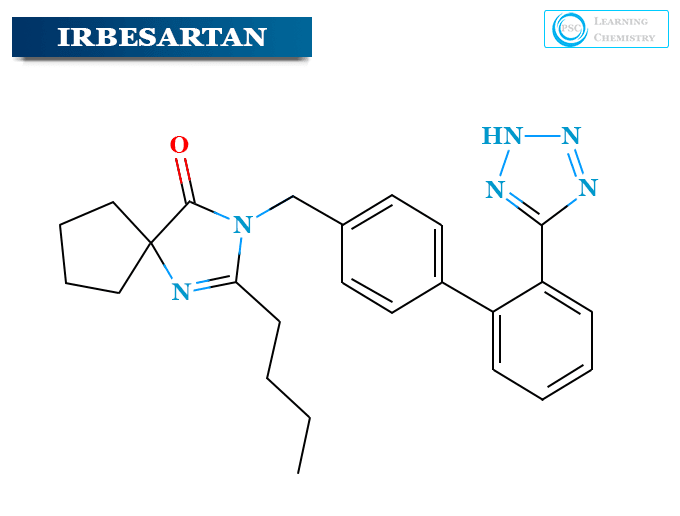 The chemical structure of irbesartan is given above the picture. It is a non-peptide compound which chemically named as a 2-butyl-3-[p-(o-1H-tetrazol-5- ylphenyl)benzyl]-1,3-diazaspiro[4.4]non-1-en-4-one. The empirical formula of irbesartan is C25H28N6O.
Irbesartan is the most commonly prescribed medicine in the United States available in a generic medication. It was patented in 1990 but approved for medical use in 1997. Irbesartan medicine is available only after your doctor's prescription.
The tablet form of irbesartan is available in the strength of 75 mg, 150 mg, and 300 mg. You take it by your mouth. It starts working within 3-6 hours of taking the medication.
Irbesartan uses
Irbesartan or Avapro tablets are used mainly for the treatment of high blood pressure or hypertension. It also helps to prevent diabetic nephropathy caused by type 2 diabetes. Diabetic nephropathy is a complication where your kidneys do not work properly.
It also helps to prevent the risk of strokes, heart attacks, and kidney problems by lowering your blood pressure. If you continued to face long-term high blood pressure, your heart and arteries may not function properly. Therefore, it can damage the blood vessel of your brain, heart, and kidneys.
How does irbesartan work?
It is a class of angiotensin II receptor blockers. Therefore, it works in a similar way to other angiotensin II receptor blockers like losartan, candesartan, telmisartan, valsartan.
It works by blocking a substance called angiotensin in the body that causes your blood vessels to tighten. Therefore, after irbesartan medication, your blood vessels relax more. Hence it lowers your blood pressure and increases the supply of blood and oxygen from other organs to the heart.
Irbesartan interaction with other drugs
Generally, irbesartan uses with other medicine but it may interact with other medications, vitamins, herbs, or supplements you may be taking. Such interaction may change the way a drug works.
Always consult your doctor or pharmacist if you taking other medications, vitamins, herbs, or supplements with irbesartan.
Blood pressure drugs
Angiotensin-converting enzyme (ACE) inhibitors such as lisinopril, enalapril, captopril, and other angiotensin-receptor blockers such as valsartan, candesartan, losartan cannot be taken with irbesartan tablets. It can increase your risk of high potassium levels, kidney damage, and low blood pressure or hypotension.
Nonsteroidal anti inflammatory drugs
Using irbesartan with nonsteroidal anti-inflammatory drugs such as ibuprofen or naproxen can increase the risk of kidney damage. The risk may higher for senior persons whose kidney functions already have poor.
Potassium supplements
It may not be used with drugs that contain potassium supplements or salt that contains high potassium levels. Taking these medications or salts with irbesartan may increase your potassium levels even more.
Lithium supplements
We cannot use lithium supplements with irbesartan tablets because such medication may increase the lithium levels in your body. It may dangerous for your health.
Dosage
It is sold under the brand name Avapro and is available in an oral tablet. It is used alone or together with other medicines. The strengths of irbesartan oral tablets available in the market are 75 mg, 150 mg, and 300 mg.
These tablets are prescribed by doctors for various stages of treatment of hypertension and diabetic nephropathy in type 2 diabetes. The doses you take may depend on your age, medical conditions, and reaction to your starting dose. You can take the Avapro tablet with or without food.
For high blood pressure (hypertension)
The recommended starting dose is 150 mg taken once per day. Your doctor can be increased your dosage to a maximum of 300 mg per day. It may increase according to your blood pressure.
It is not recorded for children under the age of 6 years. It is used for people younger than 18 years. Senior people, the ages of 65 years and older may need a lower dosage or a different treatment schedule.
For diabetic nephropathy in type 2 diabetes
The recommended adult dose for treatment of diabetic nephropathy is 300 mg taken once per day. It is not recommended for children who suffer from diabetic nephropathy. It should be used mainly for people younger than 18 years.
Side effects of irbesartan
Irbesartan medication has various common and long-term side effects. Therefore, always consult your doctor or pharmacist before taking oral tablets. The more common side effects include
Feeling dizzy
Chills
Headaches
Diarrhea
Feeling tired
Low blood pressure (hypotension)
Muscle pain
Heartburn
Confusion
The less common side effects of irbesartan medicine are
Bladder pain
Irregular heartbeat or pulse
Chest pain
Bloody or cloudy urine
Difficulty in urination
Lower back or side pain
The rare side effects of irbesartan tablets after taking are
Chest problem
Irregular heartbeat and breathing
Nausea
Fever
Urine output problem
Extreme fatigue
Pain in the arms, jaw, back, or neck
Redness of the face, neck, arms, and occasionally, upper chest
Swelling of the face, fingers, feet, lips, tongue, throat, lower legs, or sex organs
Vomiting
Weight gaining
Abdominal or stomach pain
Black or clay-colored stools
Bleeding on gums
Urinal problem
Increased thirst
Itching and rash on the skin
Red spots on the skin
Vomiting of blood
Yellow eyes or skin
Although all of the above side effects may not occur for all patients who take such medicine. If occur any of the above side effects you may need medical attention.
Acid on the stomach or acidity
Bone and chest pain, cough, diarrhea
Illness
Trouble on sleeping
Change your voice
Blurred or loss of your vision
Difficulty with bowel movement or stool
Loss in sexual ability
Irbesartan warnings
It shows adverse effects on the fetus of a pregnant mother. Therefore, tell your doctor right away if you are pregnant or plan to become pregnant. It is not recommended for breastfeeding women. It may cause serious effects in a child who takes breast milk.
If you have heart failure or a condition called renal artery stenosis, you can take irbesartan tablets after consulting your doctor. It may damage your kidney function.
If you take a diuretic or stage of dialysis, you can not use such medication. Taking irbesartan in this stage may cause very low blood pressure.
Irbesartan price
The cost or price of 75 mg, 150 mg, and 300 mg irbesartan or Avapro tablet may vary from company to company or your location where you want to buy it. You can buy irbesartan from the medical shop or a trusted online provider with a proper doctor's prescription.
Who makes generic irbesartan?
Generic irbesartan and hydrochlorothiazide may manufacture by different pharmaceuticals company and are available at various prices. It is marketed under the brand names Aprovel, Karvea, and Avapro.
Sanofi Aventis US is the top pharma company that manufactures 75 mg, 150 mg, and 300 mg Avapro oral tablets in the United States and other countries.
Generic irbesartan or Avapro oral tablets with the strength of 75 mg, 150 mg, or 300 mg may also manufacture by Alembic Pharms Ltd, Amneal Pharms, Aurobindo Pharma Ltd, Chartwell Molecular, Hetero Labs Ltd, Lupin Ltd, Macleods Pharms Ltd, Prinston Inc, Sandoz, Unichem, Zydus Pharms USA INC, etc.