Information About Alkali Metals
Alkali metals are part of the periodic table that contains six chemical elements like lithium (Li), sodium (Na), potassium (K), rubidium (Rb), caesium (Cs), and francium (Fr). Together with hydrogen, alkali metals constitute group 1 of the periodic table.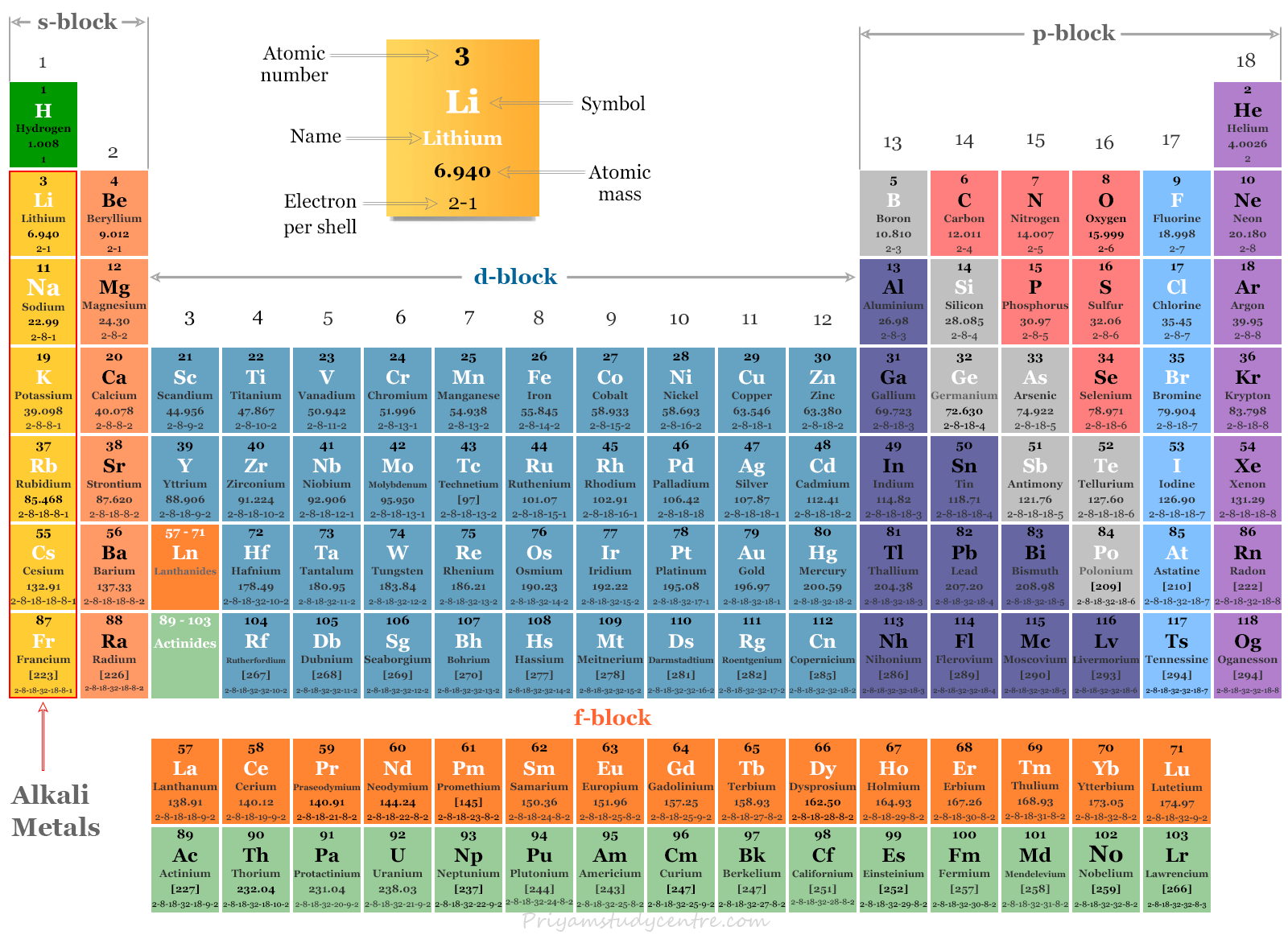 Consistent with their ns1 outer electronic configuration, the alkali metals occupy group 1 in the periodic table. The physical and chemical properties of alkali metals can be readily understood by their outer electronic configuration.
Alkali metal like sodium and potassium are extensively involved in our life process. Many of their compounds have been used since the early days of human civilization. The alkali metal, lithium, sodium, and potassium have wide industrial applications in the present-day world.
The alkali metals Na, K, and Rb are distributed very widely in the earth's crust. With the increasing atomic number, the alkalis become rare. Lithium occurs in small amounts because it disappears through the natural process of nuclear reaction. Francium is very rare due to its high radioactivity.
Properties of Alkali Metal
Alkali metal is a soft, shiny, and highly reactive element at standard temperature and pressure. They normally adopt a body-centered cubic crystal structure. At low temperatures, lithium forms a hexagonal closed-packed crystal lattice.
Alkali metals readily lose their outermost electron to form uni-positive cation (M+).
M → M+ + e
Properties
Name of alkali metal
Lithium
Sodium
Potassium
Rubidium
Caesium
Fransium

Atomic number

3

11

19

37

55

87

Relative atomic mass

6.94

22.9897

39.0983

85.4678

132.905

[223]

Electron per shell

2, 1

2, 8, 1

2, 8, 8, 1

2, 8, 18, 8, 1

2, 8, 18, 18, 8, 1

2, 8, 18, 32, 18, 8, 1

Electron configuration

[He] 2s1
[Ne] 3s1
[Ar] 4s1
[Kr] 5s1
[Xe] 6s1
[Rn] 7s1

State at 20°C

Solid

Solid

Solid

Solid

Solid

Solid

Melting point (°C)

180.5

97.79

63.5

39.30

28.5

21

Boiling point (°C)

1342

882.94

759

688

671

650

Density (gm cm−3)

0.534

0.97

0.89

1.53

1.873

Unknown

non-bonded atomic radius (Å)

1.82

2.27

2.75

3.03

3.43

3.48

Ionic radius (Å)

1.30

1.60

2.00

2.15

2.38

2.42

First ionization energy (kJ mol−1)

520.22

495.84

418.81

403.03

375.70

392.96

Electron affinity (kJ mol−1)

59.633

52.867

48.385

46.884

45.505

44.38

Pauling Electronegativity

0.98

0.93

0.82

0.82

0.79

0.70

Oxidation number

+1

+1

+1

+1

+1

+1

Standard electrode potential (M+ + e → M)

−3.04

−2.71

−2.93

−2.98

−3.03

Unknown

Flame coloration with wavelength
Crimson
670.8
Yellow
589.2
Violet
766.5
Red-violet
780.0
Blue
455.5

Unkown

CAS number

7439-93-2

7440-23-5

7440-09-7

7440-17-7

7440-46-2

7440-73-5