What are noble gases?
Noble gas or inert gas or rare gases is referred to six naturally occurring colourless, odourless monoatomic chemical elements placed in Group 18 or Group VIIIA in the periodic table. These six naturally occurring noble gases are helium (He), neon (Ne), argon (Ar), krypton (Kr), xenon (Xe), and radon (Rn). Oganesson (Og), is also placed with the noble gas family but its chemistry is under investigation.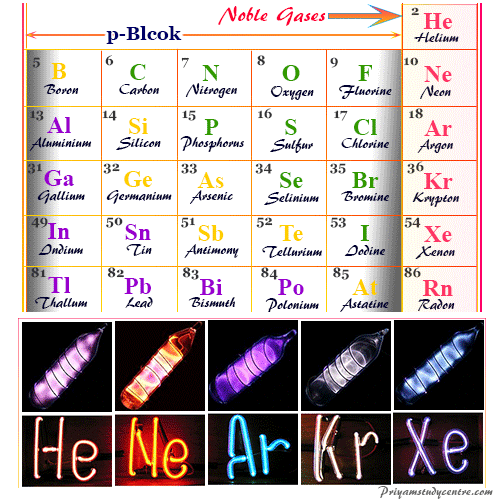 All the noble gases have very low reactivity due to their filled valence shell electronic configuration and very high ionization energy. The lack of chemical reactivity of the noble gases is the reason to call them inert.
| | | | |
| --- | --- | --- | --- |
| Atomic number | Noble gas | Symbol | Electronic configuration |
| 2 | Helium | He | 1s2 |
| 10 | Neon | Ne | [He] 2s22p6 |
| 18 | Argon | Ar | [Ne] 3s23p6 |
| 36 | Krypton | Kr | [Ar] 3d104s24p6 |
| 54 | Xenon | Xe | [Kr] 4d105s25p6 |
| 86 | Radon | Rn | [Xe] 4f145d106s26p6 |
| 118 | Oganesson | Os | [Rn] 5f146d107s27p6 |
The closed-shell electronic configuration developed very little intermolecular attraction. Therefore, they possess very low boiling and melting points.
Radon is a radioactive noble gas obtained by the radioactive decay of uranium mines. The gases, neon argon, krypton, xenon, and radon formed a face-centered cubic crystal lattice but helium alone formed a close-packed hexagonal crystalline solid structure.
All the noble gases are placed on group-18 of the periodic table along with p-block elements. The physical properties and uses of all the noble gases are very similar. For example, the melting point and boiling point of noble gas a close together, and all the gases are used in fluorescent lamps for light generation.